Headache Roller Ball - Sinus ~ Stress ~ Tension
Headache Roller Ball - Sinus ~ Stress ~ Tension
Product Description
This blend has been shown to help reduce the discomfort of headache in the head, scalp & neck most often due to muscle tightness in these areas due to stress, lack of sleep, anxiety, fatigue, hunger, overexertion or environmental toxins. Peppermint essential oil calms headache & helps blood circulation in the head, Lavender essential oil eases headache, is a natural pain reliever and has a sedative effect and Chamomile Roman essential oil eases headache, is antispasmodic and has a sedative effect.
USAGE:
Roll onto fingertips and massage onto scalp. Apply to temples, the base of the skull, down the neck and across the shoulders as often as needed. Take three deep inhalations either off your fingers or from the bottle. Can also be applied to headache pressure points as shown below.

CAUTION: Not to be used on children 3 years or younger. Store out of direct sunlight. Avoid eye contact. Not for internal use. May cause skin irritation for people with sensitive skin. Always test a small spot prior to application.

INGREDIENTS:
Organic Jojoba oil (Simmondsia chinesis) carrier oil, organic Peppermint (Mentha piperta) essential oil, organic Lavender (Lavandula officinalis) essential oil, and organic Roman Chamomile (Anthemis nobilis) essential oil.

Disclaimer: Statements made on these products are for informational purpose only and are not intended to diagnose, treat, prevent or cure any disease. None of the statements made have been approved or reviewed by the FDA. If you are suffering from any disease or illness you should consult your personal health care practitioner before changing any medication.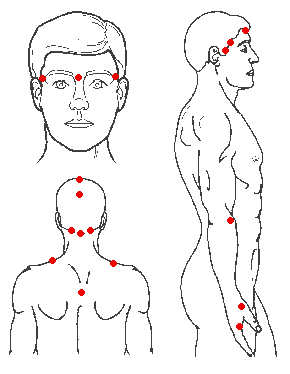 https://www.herbalshop.com/acupressure/acupressure-points-for-relieving-headache/
Product Reviews
Seriously. This stuff works wonders.

Posted by Kasey G. on Aug 8th 2017

I'm a stress wad who gets lots of headaches and suffers from chronic back and neck aches. Melissa told me all about the Headache blend and the Muscle & Joint blend. I've had a headache all day and realized how silly it was that I was popping pills instead rolling on the headache blend. I put the headache blend on my temples and between my eyes and crashed on the couch for a half hour and I'm a new person. Seriously. This stuff works wonders. Shop local. Support small business. Make Melissa your go-to oil master.
Customers also viewed